We make Complex Systems simple
Getting Started With
Rides Reservations Software
Starting Rides remote support.
When you have a problem, or need help with your Rides software, you may be asked to start a remote support session.
Remote support is built into Rides, and allows our technical support people to VIEW your computer screen, and actually even use your mouse and keyboard. In addition, during a support session files and updates can be transferred to your computer.
The remote system is thus only a few mouse clicks to start, and no special codes, support ticket number etc. needs to be typed in. This systems is fast, and easy to use. With this support system, we can quickly resolve any problem you have. Some day, all software vendors will offer this feature, but Rides has it now!!
Note that is system is secure, and operates even through secure fire walled systems. The Rides software NEVER phones home, but ONLY operates WHEN a USER requests remote support.
You use the main menu, and go help->On Star Remote Help
The Rides windows menu is here as follows: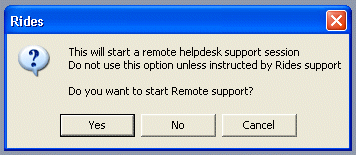 When you answer yes to the above, a small file will download

You then should see
Simply double click on the text "Double Click on me to start Rides Support". Now, a Rides support person will be in control of your computer. You both will be viewing the same screen.
At all times when support personal have control of your computer, note the icon in your computers tray (task bar)..

Note that you can right click the above connection icon, and select close to terminate the connection at any time.
home